Chubby Cream Eyeshadow/Liner
by
Heavenly Naturals.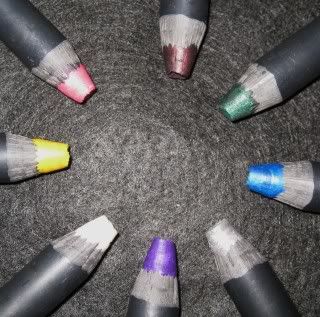 I bought the white eyeliner pencil shown at the 7 o'clock position. I love this pencil!
The concept of white eyeliner is the liven or brighten up the eye by application to the lower lid/waterline and around the tear ducts. This product has a wonderfully smooth application, which is perfect for application in that oh-so-tender area of my face! Also, I've successfully used this as a eyeshadow base underneath eyeshadows. The cream consistency provides enough "grab" for the shadows to "stick" without causing creasing. 2 thumbs up!
Next we have
Mineral Makeup Chubby Liner
in black or brown by
Erzulie Cosmetics
: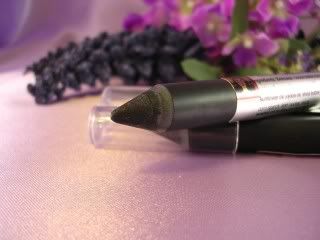 I bought this black pencil the same day as I bought the above white pencil and I have to say that I love this one just as much! Since I use a lot of black eyeliner (well, not a lot at once, but some almost every day) I was looking for a easy to apply, creamy solid black eyeliner with staying power... and this one has it ALL.
Adding in the super fast shipping and great communication with the seller and this is an A+++ buy!
Another great buy...
Flawless Foundation
in Medium from
Erzulie Cosmetics
I admit, when I received this in the mail (3 days after I ordered it, rock on with that super fast shipping!), I was doubtful. I mean seriously, it looked so dark in the container! Even looked dark on my finger! But when I put this on and it melted into my skin so smoothly and required so little in the way of buffing to smooth the finish, I was hooked!
Now, I did end up requesting a scent free version of this foundation. The original foundation formula contains EOs, one of which I have an allergy to (and I'm one of those allergy people who have to carry around and Epi-Pen). If you need a scent free version I urge you to contact the seller... she's awesome!
I'll have more to review in a later post... I wanted to knock these out first considering that the next review will cover several eyeshadows, sellers that I've bought from on Etsy for mineral eyeshadows, and my craptastic luck on eBay with a supposedly "good" seller who totally flaked on her end of the bargain.
Have a great evening!