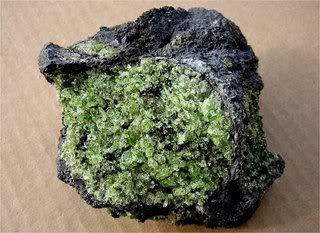 I love olivine in it's rough mineral form... shown to the left. Gemstone quality olivine is polished into peridot... and this may sound crazy but when it's all polished up and presented as peridot, it kinda loses something to me. So. I saw this pick and recreated it to the look that I'm wearing now (and I do have to go to the airport tonight, so lets just say that I didn't put on makeup for nothing...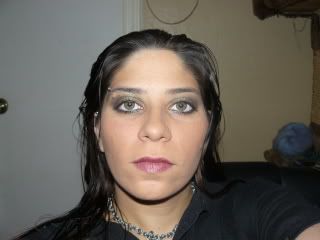 Ignore the wet hair... I put on my makeup after I took a shower. I normally shower at night so that I don't have wet hair in the morning, however it IS a day off for me, so I decided to shower early since I do have to go to the airport. Ugh. I hate the airport. Anyway.
I used medium mineral foundation applied wet, then used the white eyeshadow cream liner all over the lid. I put the black cream liner in the outside triangle and smudged it with my finger (yes, I am a bad girl, I don't really care). I then applied Jordan mineral eyeshadow, which is a dark pigmented olive green, over the inner two thirds of the lid. I then blended that with the black cream liner. I brushed some of the black liner into the crease and blended that up almost to the brow bone. The highlight is Pure Gold mineral shadow applied sparingly. I lined both upper and lower with black liner, then brushed Jordan over the lower black line.
I used a very light ruby mineral blush and covered that with Pixie Dust from Moi Minerals, I don't have any very neutral blushes yet and didn't want to call attention to my already jutting cheekbones. I also just used a generic slightly wine colored lipstick, which underlines the two weaknesses in my collection of makeup that I am going to be fixing in the future as I can afford it.
I don't think I did too bad a job matching the picture of olivine that I found... of course, that IS my opinion. :-D